GATE 2019 Application Form, Dates, Eligibility
GATE 2019 Application Form, Dates, Eligibility, Pattern, Syllabus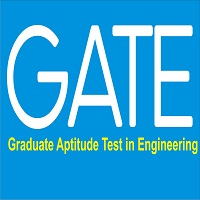 GATE is a national level entrance exam for admission to PG courses in the field of engineering and technology. It stands for Graduate Aptitude Test in Engineering. Through GATE score candidates can get admissions into M. Tech. / PhD programmes in IITs, IISc, IISERs and other reputed institutions. Every year, GATE is organized on the rotational basis by the seven zonal IITs and an IISc. Apart from granting admission, the score of gate exam is also considered as one of the criteria for recruitment to government and private organizations working in technical fields. This year GATE is organized by IIT Madras and Application starts from 1st September 2018. 
GATE 2019 Notification
GATE 2019 Notification has released. The Application Process will be started from 1st September 2018.

Click Here

to Register for GATE 2019.

 

Some good books to prepare for GATE 2019

– Check Here
GATE 2019 Overview
| | |
| --- | --- |
| EXAM | GATE 2019 (Graduate Aptitude Test in Engineering) |
| Organizing Institute | IIT Madras |
| OFFICIAL  WEBSITE | www.gate.iitm.ac.in |
| MODE OF GATE 2019 | Online (Computer Based Test) |
| NUMBER OF QUESTIONS | 65 |
| NUMBER OF PAPERS | 23 |
| TOTAL MARKS | 100 |
| TYPE OF QUESTIONS | MCQ (Multiple Choice Questions) NAT (Numerical Answer Type) |
| EXAM DURATION | 3 Hours |
| MARKING CRITERIA | 1/3 marks deducted for 1 mark question and 2/3 marks deducted for every 2 mark question |
| MINIMUM PERCENTILE | 2nd, 3rd, 9th and 10th February 2019 |
GATE 2019 Important Dates
| | |
| --- | --- |
| Commencement of Online Application Form | 1st September 2018 |
| Last Date of Application Form Submission | 21st September 2018 |
| Last Date of Application with late fee | 1st October 2018 |
| Last Date to request for the change in exam city | 16th November 2018 |
| Mock Test Release | 3rd week of November 2018 |
| Availability of Admit Card | 4th January 2019 |
| GATE 2019 Exam Date | 2nd, 3rd, 9th and 10th February 2019 |
| Declaration of result | 16th March 2019 |
| Downloading of Score Card Begins | 20th March 31st May 2019 |
| Counselling Commence | Second week of April 2019 |
GATE 2019 Eligibility Criteria
Qualification Required
Description of the Qualifying Degree
Status of the Degree
Year of Passing
B.Arch
5-years bachelor's degree in Architecture
Pursuing final year examination or completed
2019
B.E./ B.Tech/ B.Pharm
4-years B.Tech (after 10+2) in any stream or 3-years B.Tech lateral entry (after B.Sc./Diploma in Engineering/Technology). Final year candidates may also apply.
Pursuing final year examination or completed
2019
B.Sc. Research/ B.S.
4-years Bachelor's degree in Science (post-diploma or after 10+2)
Pursuing final year examination or completed
2019
Int. M.E./ M.Tech or Dual Degree (after Diploma or 10+2)
5-years Integrated Master's degree program or Dual Degree program in Engineering/Technology
Currently in the 4th/5th year or completed
2019
Int. M.E/ M.Tech

(Post-B.Sc.)

4-years Post-BSc Integrated Master's degree programs in Engineering / Technology
Presently in the 2nd/3rd/4th year or completed
2021
Int. M.Sc/ Int. B.S.-M.S.
Integrated M.Sc. or Five year integrated

B. S./M. S. program

Pursuing final year examination or completed
2019
M. Sc./ M.A./ MCA or

Equivalent

Master's degree in Science/Mathematics/Statistics/Computer Applications or equivalent
Currently in final year or completed
2019
Professional Society Examination equivalent to B.Tech/ B.E./ B.Arch
B.E/B.Tech/B.Arch equivalent examinations of Professional Societies, recognized by MHRD/UPSC/AICTE (e.g., AMIE by Institution of Engineers-India, AMICE by the Institute of Civil Engineers India)
Completed section A or equivalent of such professional

courses

NA
GATE 2019 Application Form
GATE registration 2019 will be started on the 1st week of September 2018. All the candidates have to apply online only. The registration will end in the first week of October 2018. The authority will provide a period of approx one month for the application process. Aspirants have to fill GATE 2019 application form through the GATE Online Application Processing System (GOAPS). Application Procedure for international candidates is the same as Indians. International candidates must possess a valid passport to apply.
Application Fee
Candidates can pay the application fee via Net banking, debit card or e-challan.
| | |
| --- | --- |
| Category | Application Fee |
| SC/ST/PWD Candidates | Rs. 750/- |
| Women Candidates | Rs. 750/- |
| All Other Candidates | Rs. 1500/- |
| GATE International Candidates | US Dollars 50 |
GATE 2019 Exam Pattern
GATE 2019 is held for total of 23 papers.
The examination duration will be 3 hours.
The examination mode will be online only (CBT).
Total 65 questions of maximum 100 marks will be asked in GATE 2019.
Multiple Choice Questions (MCQ) & Numerical Answer Type Questions (NAT) will appear in GATE examination.
For MCQ, 4 choices will be provided while there will be no options provided for NAT.
Students are required to enter the real number in Numerical Answer Type Questions with the help of a virtual keypad.
MCQ and NAT questions will carry 1 or 2 marks in all papers.
There will be a negative marking of 1/3 marks for the questions carrying 1 mark.
Likewise, for questions carrying 2 marks, 2/3 marks will be deducted. No negative marking for Numerical Answer Type questions.
Section
QuestionNo.
No. of questions
Marks per question
TotalMarks
General Aptitude
1 to 5
5
1
5
Technical+

Engineering

Mathematics

1 to 25
25
1
25
26 to 55
30
2
60
Total Questions: 65
Total Marks: 100
Total Duration: 3 hours
Technical Section:70 marks
General Aptitude: 15 marks
Engineering Mathematics:15 marks
25 marks to 40 marks will be allotted to Numeric Answer Type Questions
GATE 2019 Admit Card
Admit card can be downloadable from the GOAPS website.
It will not be sent via email/post.
The successfully registered candidates will be able to download the GATE 2019 admit card on 4th January 2019.
Students also need to bring one identification proof with the printed copy of admit card, to the examination hall.
GATE 2019 Answer Key
It is expected that the exam will end in the second week of February 2019.
The answer key will be released by the authority after the completion of the exam.
The authority will provide the answer key separately for each discipline.
Answer key challenge facility will also open on payment of a nominal fee.
GATE 2019 Result
GATE 2019 result will be published on the GOAPS portal of the GATE website.
The result is likely to be announced on 17th March 2019.
After the declaration of result, GATE Scorecards will be available for the candidates who secure marks equal to or more than the cut-off marks.
GATE 2019 Score Card
The qualified candidates are provided with a GATE scorecard which has the validity of three years from the date of announcement of result.
GATE 2019 scorecard reflects the candidate's performance in entrance test.
The facility to download the scorecard will be available from the last week of March 2019.
GATE 2019 Cut Off
GATE Cut off marks will decide the candidate's eligibility for admission to IITs and IISc.
It is the factor which decides whether a candidate is qualified for the exam or not.
GATE 2019 cut off marks varies stream-wise and category-wise.
The cut-off marks for reserved category candidates are primarily low than the unreserved category candidates.
GATE 2019 Counselling
For providing admission to PG courses, no common counseling will be conducted by IITs.
Students have to apply individually to the IITs when the admission notification will be released.
NIT organizes the Centralized Counselling for M. Tech. / M. Arch. / M. Plan. Admissions (CCMT).
Counselling is purely based on GATE 2019 scores.
It is the common counseling conducted by NITs every year.
GATE 2019 Syllabus
It is known that GATE is held for 23 papers.
Syllabus for each discipline is different.
For an effective preparation, it is important to know each and every topic from where the questions will be asked.
It is hard to describe the complete syllabus of GATE in few lines.
However, the students can download the official PDF of GATE 2019 syllabus for PE, PH, PI, CE, CH, CS, CY, EC, EE, EY, AE, AG, AR, BT, XE, GG, IN, MA, ME, MN, MT, TF, and XL.
Important books to Prepare for GATE 2019
Electromagnetics
Engineering Electromagnetics by William H. Hayt Jr., John A. Buck
Electromagnetic Waves by R K Shevgaonkar
Networks
Fundamentals of Electric Circuits by Charles K. Alexander, Matthew N. O. Sadiku
Engineering Circuit Analysis by William H. Hayt and Jack E. Kemmerly
Signals and Systems
Signals and Systems by Alan V. Oppenheim
Signals and Systems by Tarun Kumar Rawat
Digital Circuits
Digital Systems: Principles and Applications by Tocci
Digital Logic & Computer Design by M.Morris Mano
Analog Circuits
Microelectronic Circuits by Adel S. Sedra, Kenneth Carless Smith
Integrated Electronics by Millman and Halkias
Control Systems
Control Systems Engineering by I.J. Nagrath
AUTOMATIC CONTROL SYSTEMS by B.C. Kuo
Measurements
A Course in Electrical and Electronic Measurements and Instrumentation by A. K. Sawhney, Puneet Sawhney
Electronic instrumentation and measurement techniques by William David Cooper
Electrical Machines
Electrical Machinery by P. S. Bimbhra
A Textbook of Electrical Technology by B.L. Theraja
Power Systems
Electrical Power Systems by C. L. Wadhwa
Principles of Power System by V. K. Mehta, Rohit Mehta
Communications
Communication systems by Simon S. Haykin
Principles Of Communication Systems by Taub
Power Electronics
Power Electronics by P. S. Bimbhra
Power Electronics: Circuits, Devices, and Applications by Rashid
Electronic Devices
Semiconductor Physics And Devices by Neamen
Integrated Electronics Solid State Electronic Devices by Ben G. Streetman, Sanjay Banerjee
Optical
Fiber Optics and Optoelectronics by R. P. Khare
Optical Fiber Communications by Gerd Keiser
Transducers
Measurement systems: application design by Doebeli
Principles of measurement systems book by John Bentley
Process Control
Process Control Instrumentation Technology by Curtis D. Johnson
Strength of Materials
Mechanics of Material by Beer and Johnston
Strength of Materials by Sadhu Singh
Engineering Mechanics
Mechanics for Engineers (Statics and Dynamics) by Beer and Johnston
Design of machine elements
A Test Book of Machine Design by R.S.Khurmi and J.K.Gupta
Design of Machine Elements by V.B.Bhandari
Vibrations
Vibrations by S S Rao
Vibrations by M.P.Grover
Theory of Machines
Theory of Machines by S.Ratan
Theory of Mechanisms and Machines by Amitabha Ghosh and Asok Kumar Mallik
Fluid Mechanics
Fluid Mechanics by K. L.Kumar
Fluid Mechanics by R.K.Bansal
Heat Transfer
Engineering heat and mass transfer by R.C. Sachdeva
Heat transfer by R Yadav
Thermal Science
Engineering Thermodynamics by P.K.Nag
Thermodynamics by R.K.Rajput
Manufacturing Science
Manufacturing Technology by P.N.Rao
Manufacturing Science by Ghosh and Mallik
DBMS
Database concepts by Korth & Sudarshan
Database management systems by Raghurama Krishnan
Industrial Engineering
Industrial Engineering and Management – O P Khanna
Operation Research: Quantitative Techniques for Management – V K Kapoor
Discrete Mathematics
Discrete mathematics and its applications by Kenneth Rosen
Discrete mathematical structures by Tremblay & Manohar
Data Structures
Data Structures Using C and C++, by Langsam, Augenstein, Tenenbaum
Classic Data structures by Debasis Samanta
Algorithm
Introduction to Algorithms by Cormen
The Design and analysis of Computer Algorithm by Aho, Ullman
C Language
Data Structures Using C and C++, by Langsam, Augenstein, Tenenbaum
Let us C by Yashwant Kanetkar
Compiler Design
Compilers, Principles, Techniques and Tools by Alfred V. Aho, Ravi Sethi, Jeffery D. Ullman
Computer Networks
Computer Networks by Andrew S. Tanenbaum
Data Communication and Networking by Behrouz A. Forouzan
Theory of Computation
Introduction to Automata Theory, Languages, and Computation by John E. Hopcroft, Jeffery D. Ullman
An Introduction to Formal Languages and Automata by Peter Linz
Operating Systems
Operating System Concepts by Silberschatz, A., Galvin, P.B., Gagne, G
Operating System by William Stallings