UP New Ration Card List 2022: Govt of Uttar Pradesh will soon disclose the list of UP rations cards under eligible for NFSA. Applicants who have applied for UP ration cards they are advised that they can check their names in the new ration card list. Avail more details of the UP New Ration Card List.
अगर आप उत्तर प्रदेश से हैं और आप New ration card के लिए आवेदन करना चाहते हैं तो आप बिल्कुल सही आर्टिकल को चेक कर रहे हैं । अगर आप उत्तर प्रदेश के रहने वाले हैं तो आप लोगों के लिए बहुत ही अच्छी खबर है उत्तर प्रदेश सरकार के द्वारा New Up ration card list 2021 जारी कर दी गई है
Dear viewers if you belong to any of the cities located in Uttar Pradesh so you are informed that you can easily check complete details of UP RATION CARD LIST 2022. Applicants who will apply for UP ration cards they may check their names in the new ration card list.
Brief details of UP New Ration Card List    
| | |
| --- | --- |
| Category | UP new ration card list 2022 नई राशन कार्ड लिस्ट  |
| State | Uttar Pradesh |
| Department | Government of UP |
| Official website | www.fcs.up.gov.in |
| Ration category | APL and BPL |
उत्तर प्रदेश राशन कार्ड लिस्ट को डाउनलोड कैसे करे ?
राशन कार्ड लिस्ट को डाउनलोड करने के लिए दिए गए लिंक पर क्लिक करे (https://fcs.up.gov.in/)। और खाद्य एवं रसद विभाग की अधिकृत वेबसाइट पर पहुंच जायेंगे।
अब होम पेज पर दिए गए पर एन.एफ.एस.ए. की पात्रता सूची क्लिक करे।
अब आपको आपको एक सूची मिलेगी जिसमे आपको वो जिला चुनना है जिसके लिए आप राशन कार्ड लिस्ट देखना चाहते है। उस पर क्लिक करे।
अब क्रमवार दिए गए एरिया को सेलेक्ट करे जिस एरिया की सूची आपको देखनी है.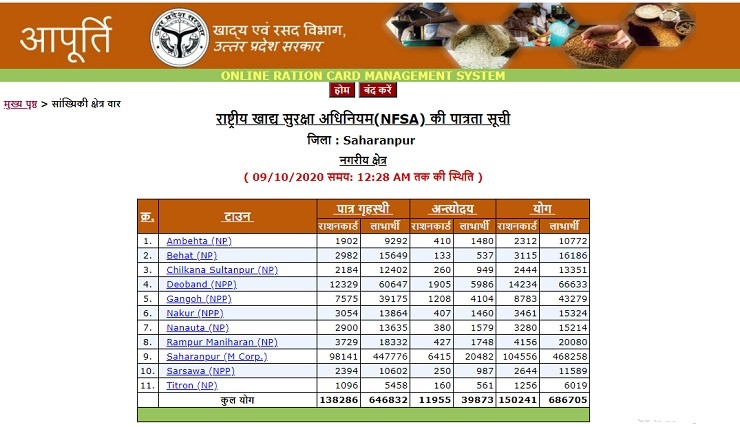 अब दुकानदार का नाम और अपने अपने राशन कार्ड की केटेगरी चुने अब आप लिस्ट में अपना नाम चेक कर सकते है।
UP Ration Card List 2022 New List
Go to the official website
In the first step, visit the official portal. You can also open the direct link which will be soon available on this page.
On the main home page, you need to find NFSA link
Now on the homepage of the website, open the "NFSA eligibility list" provided on the right side.
Select District
On choosing a link, a list of all the districts of UP will appear.
You need to search your district and press on the name of the respective district.
Select Area
Choose your area (Rural/Town) on the name of the area.
You will get the separate list for rural areas and urban areas
Select the name of Distributor
In this step, search for the name of your ration distributor/shopkeeper (Dukandaar) and
Press on the respective category/type of your ration card such as Antodaya/ Eligible household.
Search and click on the name
Once you will choose your distributor the list of all the ration cardholders under that distributor will display on the screen.
Make sure whether your name is there on the ration list or not.
You can search your name in the list.
You will then find your ration card no. & additional basic information mentioned in front of your name.
If your name is available in the list, then it verifies that you are eligible for the NFSA ration.
If you desire to check the complete information of your ration card, then you can proceed further by pressing on your "Digitized Ration Card Number" Option.
Check the details
On pressing your ration card no., you will get complete information about your ration card on your screen.
Save
If you desire, you can save or take a screenshot of your digitized ration card details
How to check your name on the list?
If you wish, you can find your name in the new ration card list directly by providing all your ration card details.
To help you in this we have provided the complete procedure in simple steps with the help of pictures. Follow the given steps shared below-
Visit the official website
On the home page, you need to press on to the direct link
Click on the relevant link
Enter Details
After that press on the "Find" button after entering details.
Check details
If your entire information matches the data on the digital ration management system's database, then you can check your name on the list.
Click to find NFSA Eligibility List
Ration Price in UP Under NFSA
Please have a glance at the price of ration provided under NFSA in Uttar Pradesh-
Wheat- Rs.2 per kg
Rice- Rs.3 per kg
Sugar- Rs.13.50 per kg
Necessary documents to apply for the UP ration card?
Check the list of documents that you will need for a new application are as follows-
Aadhar card
PAN Card
Recent Passport Size Photograph
Bank Passbook
Caste/ Category Certificate
Income Certificate
Previous Electricity Bills
Gas Connection
EndNote: Dear valued viewers hope you have understood all the information related to the ration card list. We will try our most excellent way to help you to find the UP ration card list for you and search your name in the fresh candidate list for ration card in UP.