AIPVT 2017 Application form, Exam date, Eligibility Criteria, Exam Pattern, Syllabus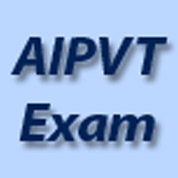 The Veterinary Council of India conducts a national level entrance examination for admission in A.H & B.V.Sc. Courses is All India Pre-Veterinary Test (AIPVT). 15% seats of various government institute reserve quota seats to expect from Jammu & Kashmir State students and other 85% state in the veterinary colleges through this entrance examination.
AIPVT will be scheduled in 2nd week of May 2017 tentatively and the application form for 2017 will be available from January 2017. The AIPVT Syllabus for Physics, Chemistry and Biology is based on the 10+2 Level syllabus followed by the Indian examination boards. Applicants who have successfully filled the application form can access the AIPVT Admit Card 2017 on the AIPVT Official Website by the month of April.
AIPVT 2017 Notification

 AIPVT is replaced by NEET UG (National Eligibility Entrance Test). 
Eligibility Criteria
Except from the State of Jammu & Kashmir, Candidate should be an Indian national.
The age of the candidate should be 17 years as on or before 31st December, 2017.
25 years is the upper age limit of the candidate's. For

SC/ST/OBC category candidates there is a relaxation of 5 years.

Applicant should have passed Intermediate (10+2) examination with English, Physics, Chemistry, Biology subjects.
Candidate must be secured a minimum aggregate of 50% marks in PCB and English in qualifying examination.
J&K candidates are not eligible for 15% All India Quota seats. They have to upload the Self Declaration, if they claim eligibility.
Candidates appearing in intermediate can also apply.
Note: No other merit list or score card will be acceptable for the admission to B.V.Sc. & A.H. As per the government norms, marks required for the reserved category candidates are less than the candidates who belong to the general category. The difference will be of 10% marks.
Important Dates
| | |
| --- | --- |
| Commencement of Online application form | February 2017 |
| Last date to submit the application form | March 2017 |
| Last date to submit the application with late fees | first week of March 2017 |
| Admit Card will be available from | Last week of May 2017 |
| AIPVT 2017 Exam Date | second week of May 2017 |
| The Result will be out on | Last week of May 2017 |
AIPVT Application Form
Application form of AIPVT 2017 will be available from the 2nd week of January, 2017 till 1st week of February, 2017. Applicants can submit the application fees till the 1st week of March, 2017.
Apply online for AIPVT 2017-

Click here
AIPVT 2017 Application Fee
1500/- (Rs. 1500/- + Rs. 750/- with late fee) for general/OBC applicants.
750/- (Rs. 750/- + Rs. 750/- with late fee) for SC/ST/PH applicants.
Late submission of application fee 750/- along with the above mentioned charges as per the category.
Candidates can submit the application fee via DR/CR card, Net Banking or through e-challan by using SB Collect facility by depositing fee in State Bank of India.
Processing fee/Applicable fee & service tax will be charged by the candidate if applicable.
AIPVT 2017 Important Points
The application form of AIPVT 2017 will be started in the second week of January 2017.
No application fee can be refunded if applicant fails to attempt the examination.
In case of any problem regarding the filling of application form, applicants may ask us by leaving their comments.
The application fee can be remitted through credit card/debit card/net banking/e-challan.
Applicants from Jammu & Kashmir are not eligible for 15% All India Quota seats.
AIPVT is an Entrance Test conducted by the Veterinary Council of India for filling up of B.V.Sc. & A.H. (Degree Course) seats under their control.
Haryana, Manipur and Rajasthan have given their consent to fill up State Quota seats.
AIPVT 2017 will be an offline pen and paper test.
Syllabus will be taken from the state and central board of 11th & 12th class fro the subjects like Physics, Chemistry and Biology.
The duration of AIPVT-2017 shall be 03 hours from 2.00 to 5.00 P.M.
The minimum age is 17 years while the maximum age is 25 years. Reserved applicants will be exempted 5 year in upper age limit.
Applicants from the State of Jammu & Kashmir are NOT ELIGIBLE for 15% All India Quota seats as the provisions of the Indian Veterinary Council Act 1984 have not been extended to the State of Jammu & Kashmir. If they claim eligibility, they must upload Self Declaration.
Any applicant passed class XII examination with an aggregate of 50% marks in the subjects of Physics, Chemistry and Biology/ Bio-Technology and also passed English in the Qualifying Examination from any recognised Board/University can appear in the AIPVT.
There is no limit on number of Attempts for appearing in AIPVT.
For each correct response the applicant will get 4 marks. For each incorrect response, one mark will be deducted.
AIPVT 2017 Exam Pattern
Questions Type: The question paper of AIPVT 2017 will be consisted of 180 objective type questions.
Mode of Language: The medium of question paper will be English and Hindi.
Marking Scheme: Each correct answer contain 4 marks.

Duration:

The duration of the test shall be 3 hours.

Negative Marking:

For incorrect answer, one mark will be deducted as the negative marking.
| | |
| --- | --- |
| Subjects | Number of Questions |
| Physics | 45 |
| Chemistry | 45 |
| Biology (Botany and Zoology) | 90 |
| Total | 180 |
AIPVT Admit Card 2017
Admit card can be downloaded from the official website.
Tentative schedule for hosting of admit cards on website will be second week of April 2017.
Admit card must be preserved till the admission process gets over.
AIPVT Answer Key 2017
Answer key provides opportunity to the applicant's to calculate marks before the result announcement.
Answer key will be displayed on the council's website.
The answer key can also be challenged against the payment of Rs 1000/- per question.
If challenge is accepted then fee will be refunded to the applicants.
AIPVT Result 2017
Result will be published online through its official website by the last week of May 2017.
Only the successful applicants will be eligible for admission to the academic year 2017-2018.
AIPVT 2017 Counselling
Counselling schedule will be published as per applicant's merit/wait list on the council's official website.
Seat allotment letter will be issued on the same day of counselling.
The counselling will be held in first week of August 2017.
Applicants will also be intimated through email and SMS.
Applicants are required to appear the counselling round with all the necessary documents for verification.
Selection Process
VCI will prepare the All India merit list and state wise merit list.
Counselling will be conducted by VCI and for rest of the 85% seats , participating states conduct their own counseling for admission to 15% all India quota seats.
Participating states will prepare their own ranking based on All India/State wise merit list of applicants of AIPVT 2017.
AIPVT 2018 Exam Syllabus
Questions will be taken from the 11th and 12th streams under the pattern of 10+2/intermediate/pre-medical university/12th board.
Somehow books from the NCERT and CBSE may be useful. Brief AIPVT syllabus is mentioned as following:
PHYSICS
CLASS XI: Physical World and Measurement Kinematics Laws of Motion Work, Energy and Power Motion of System of Particles and Rigid Body Gravitation Properties of Bulk Matter Thermodynamics Behaviour of Perfect Gas and Kinetic Theory Oscillations and Waves
CLASS XII: Electrostatics Current Electricity Magnetic Effects of Current and Magnetism Electromagnetic Induction and Alternating Currents Electromagnetic Waves Optics Dual Nature of Matter and Radiation Atoms and Nuclei Electronic Devices
CHEMISTRY
CLASS XI: Some Basic Concepts of Chemistry Structure of Atom Classification of Elements and Periodicity in Properties Chemical Bonding and Molecular Structure States of Matter: Gases and Liquids Thermodynamics General Principles and Processes of Isolation of Elements Equilibrium Redox Reactions Hydrogen s-Block Element (Alkali and Alkaline earth metals) Some p- Block Elements Organic Chemistry-Some Basic Principles and Techniques Hydrocarbons Environmental Chemistry
CLASS XII: Solid State Solutions Electrochemistry Chemical Kinetics Surface Chemistry p-Block Elements d and f Block Elements Coordination Compounds Haloalkanes and Haloarenes Alcohols, Phenols and Ethers Aldehydes, Ketones and Carboxylic Acids Organic Compounds Containing Nitrogen Biomolecules Polymers Chemistry in Everyday Life
BIOLOGY
CLASS XI: Diversity in Living World Structural Organisation in Animals and Plants Cell Structure and Function Plant Physiology Human physiology
CLASS XII: Reproduction Genetics and Evolution Biology and Human Welfare Biotechnology and Its Applications Ecologyand environment