JNVST 2024: Navodaya Vidyalayas are vast chain schools all over India. These schools are running with a vision to provide good quality modern education including a strong component of culture, inculcation of value, awareness of the environment, adventure activities, and physical education to the talented children predominantly from the rural areas without regard to their family's social economic conditions. Jawahar Navodaya Vidyalaya is run by the Navodaya Vidyalaya Samiti (NVS), an autonomous organization under the Ministry of Human Resource Development, Department of School Education and Literacy, Govt. of India. Navodaya Vidyalayas offers admission for the candidate of classes 6th and 9th every year after clearing the entrance examination (JNVST). Candidate must check all the details regarding Navodaya Vidyalaya Admission 2024 application form.
JNVST 2024 Important Dates
For Class 6th Registration 2024-25
| | |
| --- | --- |
| The application process starts on | 3rd week of October 2024 |
| Last date for online Registration | 2nd week of December 2024 |
| The correction window opens on | 3rd week of December 2024 |
| Admit Card release date | last week of March 2024 |
| JNVST Admission test | 1st week of April 2024 |
For Class 9th Registration 2024-25
| | |
| --- | --- |
| Online Registration Starts | 1st week of November 2024 |
| Last date for online Registration | 2nd week of December 2024 |
| Admission test | 2nd week of February 2024 |
Eligibility Criteria
The only Candidate from the district where the Jawahar Navodaya Vidyalaya has been opened is eligible to apply for admission.
However, in the district where the JNV is opened and is bifurcated at a later date, the old boundaries of the district are considered for the purpose of eligibility for admission in JNVs.
The students should have passed classes 3rd, 4th, and 5th in earlier years without the gap.
The Age of the Candidate must befall between 9 and 13 years.
No candidate is eligible to appear in the selection test the second time, under any circumstances.
At least 75% of seats of the district will be filled by candidates from rural areas and the next 25% of seats by candidates from the urban area.
A candidate claiming for the rural quota must have studied in classes 3rd, 4th, and 5th classes from a rural established school.
Candidate studying under the schemes of the National Institute of Open Schooling should produce their rural status certificate issued by District Magistrate/Tehsildar/BDO.
A candidate who has not been promoted and admitted to class 5th before 30th September is not eligible to apply.
No candidate is eligible to appear in the JNV Selection Test for a second time, in any circumstances.
Reservation Criteria
Area wise
Rural
75%
Urban
25%
Gender
Boys
67%
Girls
33%
Category
SC
15%
ST
7%
Physically Handicapped
3%
JNVST 2024 Application Process
Procedure to register online for JNV Selection Test 2024
The application process for JNV Selection Test is an online process. Registration can be done free of cost through the admission portal of NVS linked through www.navodaya.gov.in and navodaya.gov.in/nvs/en/Admission-JNVST/JNVST.
The eligible candidates have to fill out the online application form and upload the required certificate with the photograph along with the signatures of both candidates and his/her parent/guardian. The attachments should be uploaded in the jpg format of the size between 10-100 kb only.
In the case of candidates who are from NIOS, candidates need to obtain a `B' certificate and residence should be in the same district where he/she is seeking admission.
The online platform is open source and free of cost. The online application can be submitted from any source like desktop, laptop, mobile, tablet, etc.
In all Jawahar Navodaya Vidyalayas, a help desk is there to assist the candidates/parents to upload applications free of cost. Parents can also approach the help desk along with the candidate and required documents such as a certificate with a photograph along with the signature of both candidates and his/her parent/guardian and a mobile phone with a valid mobile number for receiving the registration number and password through SMS for the registration process.
Application Fee
From class 6th to 8th, there is no provision for fees.
For students of 9th class to 12th class, there is a fee of INR 1200/- per annum.
The fee for the ward of the government employee is Rs.5000.
For students of the SC/ST category, there is no fee.
Girls and Boys of BPL categories are also exempted from any type of fee.
Education in Jawahar Navodaya Vidyalaya is free including Board and lodging with good hostel facilities, uniforms, and textbooks.
State-wise Distribution of Jawahar Navodaya Vidyalayas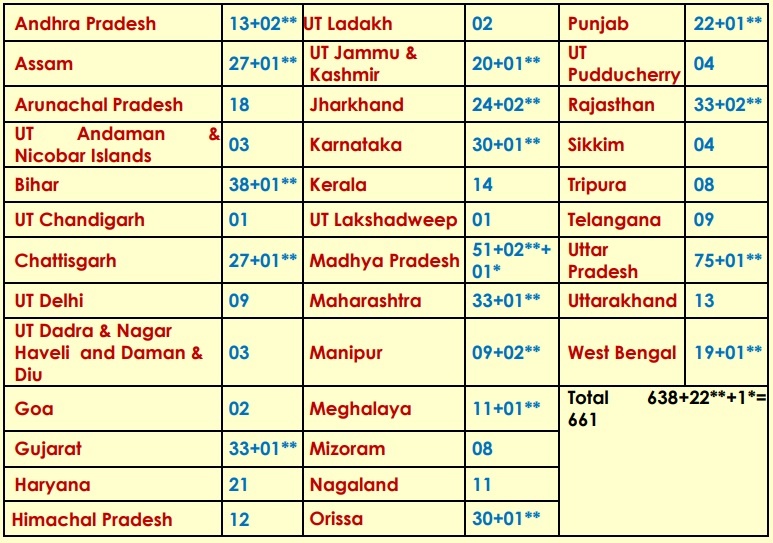 Exam Pattern
| | | | |
| --- | --- | --- | --- |
| Subject | Number of Questions | Marks | Time |
| Mental Ability | 40 | 50 | 60 minutes |
| Arithmetic | 20 | 25 | 30 minutes |
| Language | 20 | 25 | 30 minutes |
| Total | 80 | 100 | 2 Hours |
JNVST 2024 Admit Card
Candidates can download admit card by using their application number and date of birth.
Admit Card for Navodaya Vidyalaya will be available on the official website on the prescribed date.
It will not be sent to any candidate by postal or any other mode.
No candidate will be allowed to sit in the examination hall without a valid admit card.
It is advised to candidates that retain admit card till the end of the admission procedure.
Syllabus
Mental Ability: Figure Matching, Odd Man out, The pattern Completion, Figure Series Completion, Analogy, Geometrical Figure Completion, Mirror Imaging, Punched Hold Pattern, Space visualization, Embedded visualization, The syllabus will also comprise comprehension question also.
Arithmetic Section: Number and numeric section, Four fundamental operations on the whole number, Fractional number and Fundamental operation, Factors and multiple including their properties, LCM and HCF factors, Decimals and Fundamental operations, Conversion of the fraction to decimal and vice versa, Applications of the number in measure length, mass, capacity, time, etc., Distance, time and speed, Approximation of expression